About Us - Paw Prints Dog Walking and Pet Care Services
Paw Prints Dog Walking and Pet Care Service is focussed on providing you with peace of mind that your pet is looked after, stimulated and gets the exercise and attention they need when they are in our care.
We pride ourselves on our professionalism and as such have become an approved supporter and member of Brighton & Hove City Councils Professional Dog Walkers Code of Conduct. Please click here to see the full Professional Dog Walkers Code.

Our dog walking service caters for individual walks for shy or timid dogs and group walks, which are great for 'socialising' your pooch.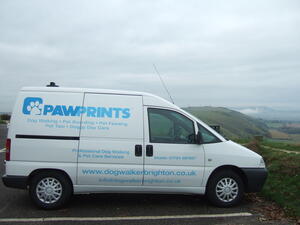 Our specially fitted out dog walking van ensures your pet travels in safety and comfort. Each dog has their own individual dog cage, with soft blanket. Our van is also equipped with air conditioning to ensure animals are cool, especially after a long hearty run.
We only ever walk your dogs in safe environments away from traffic and other disturbances. Our dog walks are usually based on the South Downs, in places like Devils Dyke and Ditchling Beacon. Alternatively we do dog walks in Stanmer and Wild Parks or on the coast, especially in warmer conditions.
We insist on meeting all potential clients before we undertake any work. This initial consultation is FREE of charge and allows us to introduce ourselves to you and your pets. Here you will also obtain a copy of our public liability insurance and details of our police check. Please read our terms and conditions and FAQs for more information.